Posted by Chris on 18th Nov 2022
30% off hemp clothing, vapes, e-cigs and detox products in our annual Dak Friday sale!
The #DakFriday Sale includes our top selling Focus Vape, Quick Fix synthetic urine, detox drinks, e-cigs, Vaporite desktop vapes, and our entire range of hemp clothing.
How to get the Dak Friday discounts:
You may need to add products to your cart to see the sale price - discounts are applied at the checkout.
The #DakFriday discount is available for sale items purchased in-store at 253 K Road, online web orders, or by phone (0800-HEMPSTORE or 09-302-5255).
These special #DakFriday discounts are only available to registered customers.
When you shop in-store or by phone, tell us you are an existing customer or register to join our in-store loyalty programme (The Hemp Club) to access the DakFriday discounts and also earn High Buys on your purchases.
When you shop online, simply login or create a new account to access the discounts.
Sale period
The Hemp Store's 2022 Dak Friday Sale runs from 4:20pm Thursday 24th November to 11:59pm Sunday 27th November.
Get in while stocks last as some items are limited.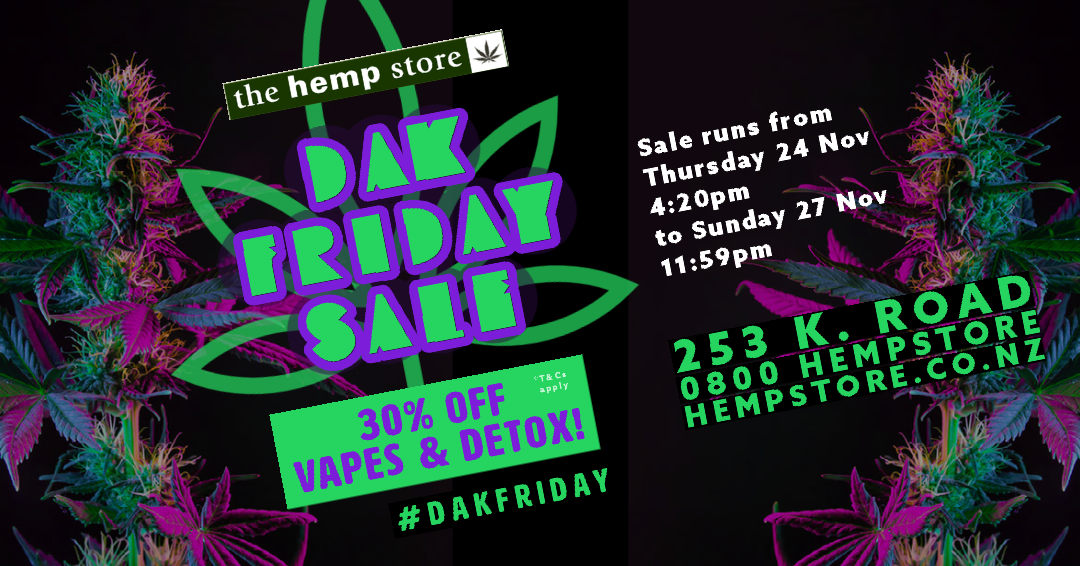 * excludes items already on sale. T&Cs apply.