Posted by Hempstore on 25th Mar 2023
UPDATE: AUCKLAND J DAY HAS A NEW DATE: SATURDAY 2 DECEMBER 2023, AT ALBERT PARK (WAS: POSTPONED DUE TO WEATHER)
The Hempstore in association with NORML presents J Day, a rally and concert supporting cannabis law reform, held in Albert Park on the first Saturday in May every year now rescheduled to Saturday 2nd December.
The Hempstore has supported J Day since we began back in 1997, with sponsorship and doing the mahi of organising permits, stalls, and the day itself.
J Day is usually held on the first Saturday in May, in Albert Park, every year. However this year due to extreme weather the park was not suitable and we had to postpone the event - which we have done only once before.
We now have the opportunity to gather post-election, and at the start of summer, to help put the pressure on the new government.
This will be the 31st national day of cannabis action, with people gathering to show their support for law reform, learn something new and enjoy our cannabis culture.
We will be running a pop-up stall in the park on the day, so come along and check it out.
J Day is R18, runs High Noon to 4:20. No glass, alcohol or dogs. Bring your buddies and a big smile!
Where: Albert Park, Princes St, CBD
When: Sat 6 May, SATURDAY 2 DECEMBER 2023, 12 NOON - 4:20PM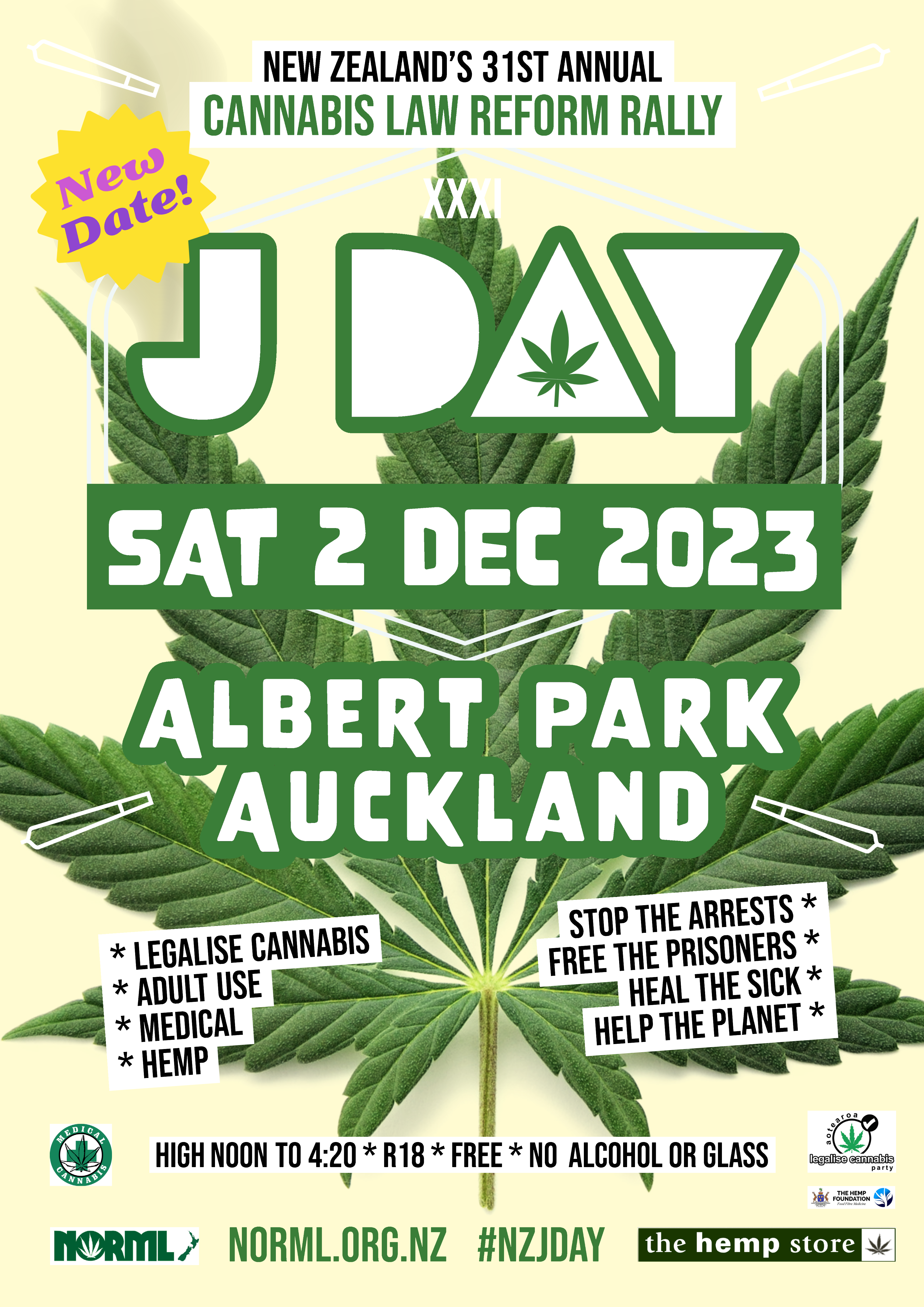 For more info about J Day please see:
---
THIS WAS THE POSTER FOR THE PREVIOUS DATE, CELEBRATED NATIONWIDE (AUCKLAND POSTPONED)